If you would like to discuss the option of creating a unique or unusual engagement ring, wedding band or bespoke piece of jewellery then we would love to hear from you. We love to work to all kinds of specifications, whether it might be a surprise engagement, a dual effort, or a piece to gift or treasure.
We work with a variety of techniques to make each ring and have great support from our team of master jewellers based in Hatton Garden and Birmingham's jewellery district. Each piece of fine jewellery is made by hand and diamonds and other precious gemstones are always sourced from trusted suppliers.
We are also happy to work with precious stones that may come from a family heirloom and are very happy to take a look at your pieces.
You are also able to view some of our semi-bespoke designs in our shop, these rings are customisable and can be made with the stones of your choice creating a unique colour palette.
THE PROCESS
The piece normally starts with a one to one consultation where we can chat about your design ideas, inspirations and budget. If you are unable to meet at our London studio then we can arrange to chat via email, skype or phone call.
After the initial ideas have been discussed we often like to source an exciting range of stones for your consideration and in depth designs can also be drawn up. Once the final design has been sketched and confirmed, it can take between 8-10 weeks for the final ring to be made, this time depends on the complexity of your design.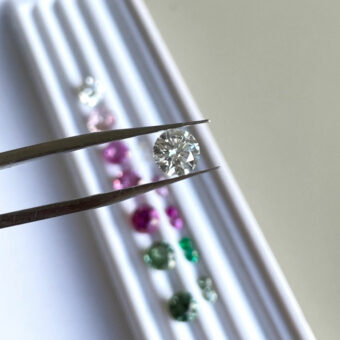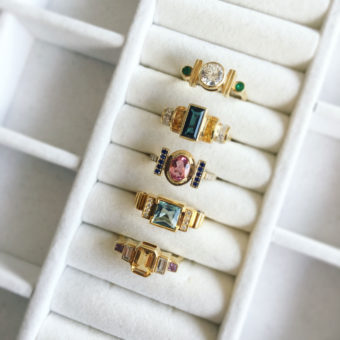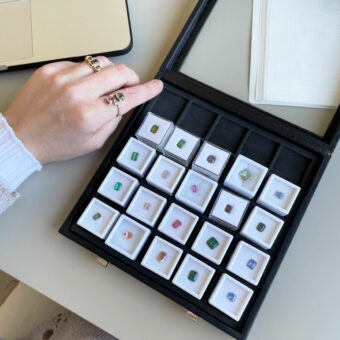 "I am so glad that I decided to commission Lily Kamper to create a ring in memory of my late Grandparents. Lily was so kind and attentive throughout the design process, making insightful suggestions as to stones, colour and arrangements, whilst staying true to the meaning that the ring would hold for me. Lily has created a new family heirloom of huge personal significance, as well as a stunning piece of jewellery which never fails to receive compliments. I am so glad I reached out to Lily to make this ring and couldn't recommend her enough."
–
"Lily is kind, considerate, masterfully skilled and a complete professional.
We loved working with Lily on the way towards a bespoke engagement ring and wedding bands. Thank you!"
–
"Lily has artistic talent in abundance, but she is also warm and empathic. She listens to the nuance of who you are and the brief. Not only aesthetically but in a more meaningful way too.  For me, I wanted a ring to remember my Dad and celebrate a decade with my partner. Something so embued in 'us' that I could pass it on to our daughters. Something I could wear every day, yet feel 'wow' each time I looked down at it. I couldn't be more delighted with the process or the gorgeous outcome."